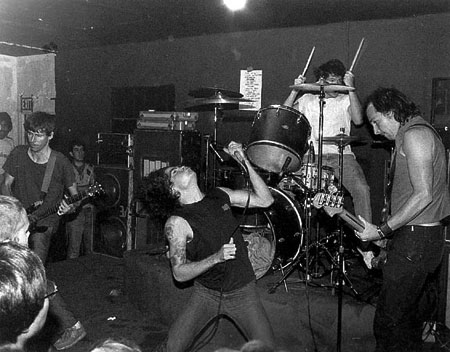 Black Flag has always been good to me. The band was there in my teen years and early twenties where my head was a mess of hatred, rage and hormones. Love was a razor, and I constantly cut my throat.
Far too many people say Black Flag went down the drain when Henry Rollins took over vocals. I have to disagree. Yeah, the music changed, but it became deeper. Instead of reacting to it, you understood it ... or at least I did. "White Minority" was gone and "The Bars" replaced it. Both are good songs in their own right, but I'll take "The Bars" any day.
When it comes to Black Flag songs that I think sum me up fairly accurately, it is "Out of This World." Hands down. The irritating pick down the strings, the stream-of-consciousness insanity, the contradictions -- it's all me. "I've got a smile on my face/And I'm never coming to."
This song works wonders on me. I pick up something new in its cadence every time I listen to it. I don't want to say it's magic, but ...
Oddly enough, while I love it, I think it's one of the weaker Black Flag songs. It's nowhere near as powerful as "Loose Nut" or "My War." It is me, though, and I think my friends may argue that, but few have been deep in my head.
Now I'm looking for the sun ...